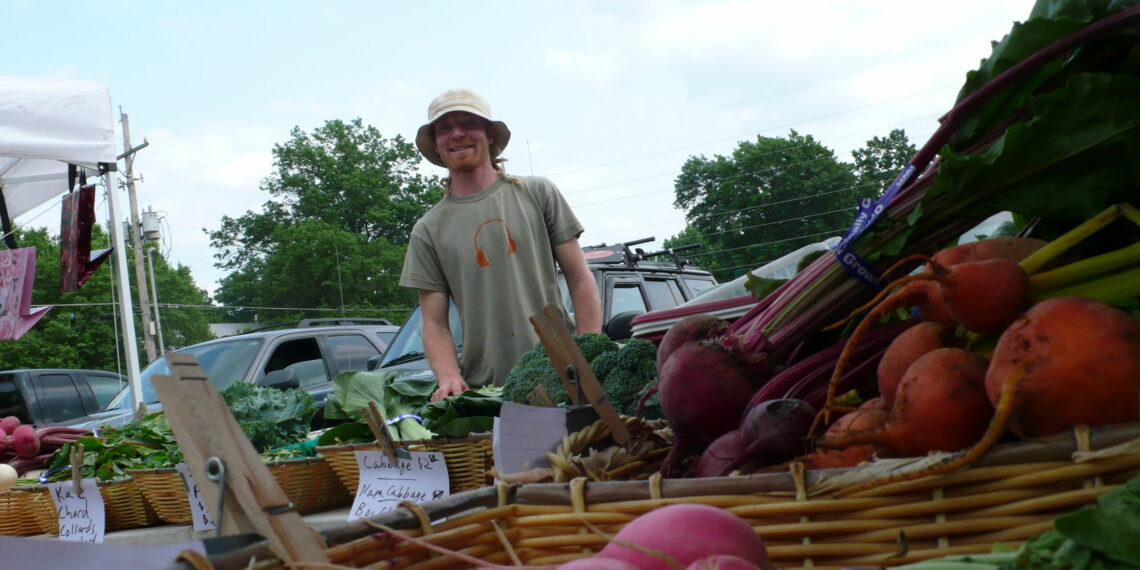 Cottin's Hardware Farmer's Market
Thursdays, 4:00 pm – 6:30 pm @ Cottin's Hardware
April – September: in the parking lot behind the store
October – March: inside the store
We are excited to announce the return of live music to our market! Hot Food, Free State Brewing beer, and Public Chess Tables soon to follow! In the meantime…
10+ Local Vendors Weekly

Fresh Produce, Baked Goods, Pastured Meats, Local Honey, Jams, Jellies, Gluten Free Products and More!
Live Music
Public Chess Tables June – August!
Hot Food, Free State Brewing Beer
Get Email Updates!
Subscribe to Cottin's Farmers Market mailing list to get notified about upcoming vendors and musical guests!
Farmer's Market 2021 Calendar
| Date | Musical Guest | Hot Food Vendor |
| --- | --- | --- |
| 6-May | Tyler Gregory | TBA |
| 13-May | Fresh Picked | TBA |
| 20-May | Mire Pral Trio | TBA |
| 27-May | Fresh Picked | TBA |
| 3-Jun | Lance Fahy | TBA |
| 10-Jun | Fresh Picked | TBA |
| 17-Jun | Mire Pral Trio | TBA |
| 24-Jun | Tyler Gregory | TBA |
| 1-Jul | Vaccinated | TBA |
| 8-Jul | Mire Pral Trio | TBA |
| 15-Jul | Pickett, Jeans, & Jeans | TBA |
| 22-Jul | TBA | TBA |
| 29-Jul | Vaccinated | TBA |
| 5-Aug | Pickett, Jeans, & Jeans | TBA |
| 12-Aug | Vaccinated | TBA |
| 19-Aug | TBA | TBA |
| 26-Aug | TBA | TBA |
| 2-Sep | Tyler Gregory | TBA |
| 9-Sep | Lance Fahy | TBA |
| 16-Sep | Pickett, Jeans, & Jeans | TBA |
| 23-Sep | TBA | TBA |
| 30-Sep | TBA | TBA |
Meet Our Vendors:
Avery's Produce – Seasonal vegetables including – Spinach, chard, red Russian kale, pac choy, Asian greens, braising greens, radishes, turnips, potatoes, root vegetables, squash, garlic and so much more!
Bauer Farm – Delicious locally grown chemical free asparagus, watermelon and cantaloupe!
Bella Vista Farm – Sustainable chemical free heirloom vegetables and herbs raised in Shawnee County atop a no-till hill alongside a small flock of chickens.
Bramble Rose Farm – First generation farmers with fresh locally grown seasonal fruits and vegetables. Fresh picked from their farm to your table, because you can taste the difference.
Central Garden – Fresh garden produce grown by Liberty Memorial Central Middle School students.
Country Road Farm – All natural farm fresh eggs, all natural whole turkeys and ground turkey, grass fed and all natural fed beef (ground chuck), bake goods, pies, cakes, cookies, muffins and breads.
Crescent City Goods, LLC – Fresh herbs, tomatoes, peppers, and okra.
Eat 8 Flowers – Gluten free bake goods, crafts, seasonal produce, chicken and duck eggs, herbs and more.
Farm on the Block – Seasonal vegetables, micro-greens, and fresh eggs.
Free State Brewing Company – Locally hand crafted artisan beers.
Maseualkualli Farms – Sustainably Grown Produce, Teas, Herbs, Seasoning Blends
Meat LLC – Local artisanal sausages and meats curated by The Left Hand Butcher.
Mellowfields Urban Farm – As local as you can get, farm fresh produce grown less than 100′ from the market space! Including assorted greens, lettuce, radishes, onions, potatoes, sweet potatoes and more.
Midnight Farm – Organically grown annual and perennial plants.
Mona C's Fudge – Delicious hand made fudge.
Pat & Rachel's Garden – Organic plant starts, flowers, herbs and seasonal vegetables, including arugula, lettuces, greens, tomatoes, peppers, radishes, squash, and more.
Le Petit Garden – Unique Jams and Jellies from a variety of fruits and vegetables
Pinwheel Farm – Vegetables and other horticultural crops, lamb meat, wool products, lye soap and more.
Private Garden – Seasonal vegetables and a bucket full of flowers to boot!
Queen of Tarts – Brownies, cake, quiche, and tarts, (savory and sweet) made from premium organic ingredients, Kansas flour, and eggs from their resident hens. Special orders welcome. Call the Queen @ 785.550.6194
Red Tractor Farm – Pasture raised goat meat, farm fresh eggs, seasonal vegetables.
Robert's Farm – Sustainably grown, chemical free vegetables and herbs.
Running Water Homestead – Medicinal Mushroom Tinctures, Seasoning Blends, and more
S & H Farms – Local plants and produce including tomatoes, peppers, broccoli, beans, greens and more, grown with sustainable practices and OMRI certified inputs.
Sacred Sun Farm – 100% organic grains, legumes, vegetables, herbs, tinctures, seasonal fruit, eggs and much more. And if we are lucky they will bring their grain mill cycle to the market too!
Sarah's Sweet Tarts and Treats – Gluten-free bake goods with products such as: tarts, pies, cookies, cakes, coffee cakes, muffins and breads.
Steph's Garden – Organic produce, pickles, jams, salsa and butters.
Stony Ridge Farm – Seasonal fresh fruit, farm fresh chicken eggs. 100% Grass Fed Beef, local honey, homemade jams and jellies, fresh bake goods including coffee cakes, jalapeno bread, gift items and more! Pre-orders on all items are welcome. Call Debbie @ 785.863.2801.
Sweetlove Farm – Pastured raised chickens tractored year round to provide the richest, most natural salad bar of pasture edibles. Chicken is sold whole or cut up and farm fresh eggs are also available.
Tez Bakes – Variety of baked goods stemming from family recipes
Wild Alive Ferments – Live local ferments including mayonnaise, mustard, hot sauce, kimchi, kraut and so much more.
Vinland Valley Nursery – Locally grown live plants including herbs, flowers and ornamental items. Pre-orders on all items are welcome. Call Doug or Amy @ (785) 594-2966
Wakarusa Valley Farms – Locally grown mushrooms, goat cheese pate, salad mix, seasonal vegetables and more!