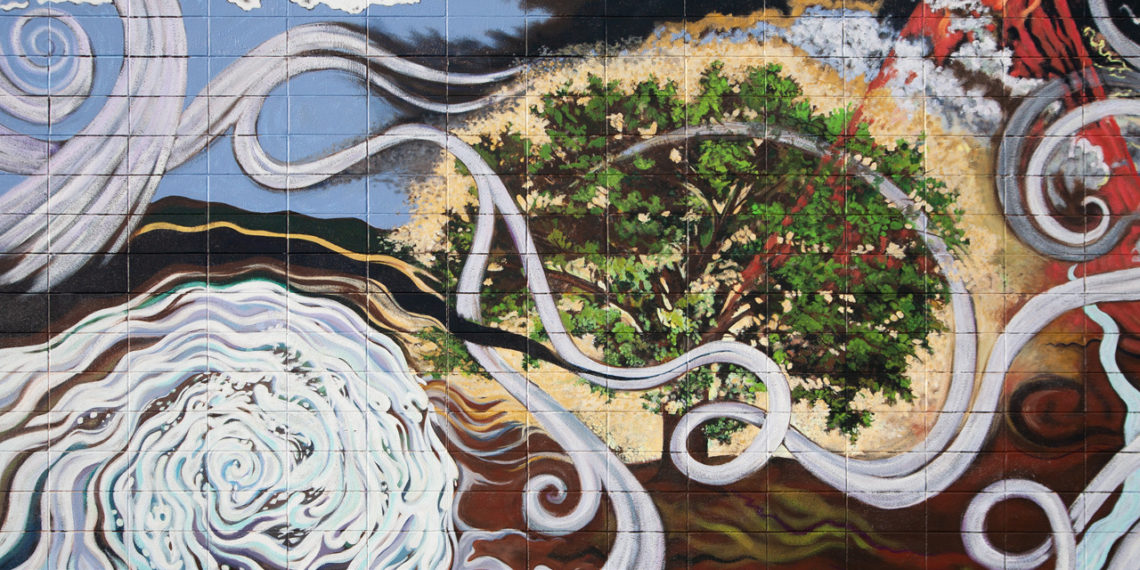 In Good Standing Amidst The Powers That Be
Original Painting By Ardys Ramberg
During the Spring of 2002 Ardys Ramberg and muralist Missy McCoy joined forces to create a powerful image of Lawrence Kansas' beloved elm tree "Amidst the Powers of That Be" upon the exterior wall of Cottin's Hardware and Rental
For those unfamiliar with the plight of Lawrence's beautiful Elm Tree, here is a brief synopsis…
The Elm graced the streets behind the Lawrence, Kansas downtown business district for upwards of 200 years. Through friendly shelter and undaunting beauty, the elm tree served Lawrence inhabitants and weary travelers with selfless devotion. As Lawrence grew, as with all towns, the call of the mighty dollar rang stronger then nature itself. Soon the land surrounding the tree was paved and developed to suit the needs of a corporate owned book store. As construction took its toll, the tree began to wane and developers jumped at the opportunity to expand their territory. The tree was sited for demolition much to the neighborhood's dismay. Lawrence's tree lovers united and staked their claim with such force that the life of the tree was temporarily spared. Through the trauma of urban development, the placement of pavement over its roots and the threat of destruction, Lawrence's Elm Tree held strong. It was its service to the community that afforded the elm's survival for so many years and it was the community's commitment to the elm that warranted its survival for the last three years of its life.
When time came for the tree to be cut down a final attempt was made to save it. Protestors gathered and a woman named Sihka climbed up the tree to live for a week. Eventually, Sihka was relieved by Aeon and a host of supporters on the ground. After two weeks of waiting, Hunter Harris, an employee of Harris construction, one of the property owners, issue a notice to vacate. Still Aeon remained in the elm and vowed to stay until the threat of demolition had pass. The protesters were trying to preserve the tree as a symbol of opposition to big business and commercialization in Lawrence. The property owners worded the notice to vacate as pleasantly as possible and entered the situation with the spirit of cooperation. The notice indicated the green space where the tree stood would exist in the southeast corner of the future development in the form of a "pocket park." Aeon eventually vacated the tree with the help of local firefighters and the tree was removed on March 29, 2003.
We hope to hold strong within the forces of nature and man as urban sprawl and the power of the mighty dollar furl their collective influence over our community. We can only hope that, like the tree, our service to the community will be as coveted and that we will be afforded the privilege to remain In Good Standing Amidst the Powers That Be.